Equipment Description
We have a variety of standard and specialist subsea related equipment at our disposal, whether the equipment is based full time in Labuan or stored in West Malaysia/Singapore, we can move this equipment at very short notice. We pride ourselves in our ability to react quickly to call out and/or emergency situations and our equipment availibility is no exception. Please find a brief summary of some of the equipment that we can provide in support of our underwater services.
Shallow Water (Portable) Diving Equipment

We offer Commercial Diving Services to all relevant industry sectors. Our extensive experience, proven track record and sizable client portfolio is ample verification of our success and competence...



Containerised Air Diving Systems

BSS provides advanced Remotely Operated Vehicle (ROV) Services in support of all relevant industry sectors. ROV's can be relocated and mobilised at short notice giving our clients a real 'Call-Out' service.
Mixed Gas Diving Systems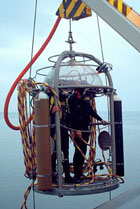 BSS can provide Surface Supplied Mixed Gas Diving Systems (for deeper diving) at very short notice. Surface Supplied Mixed Gas Diving is conducted by utilising a mixture of Helium and Oxygen as the breathing gas. Mixing these gases enables us to increase the range of our Surface Supplied Diving operations without the requirement of employing Saturation Diving techniques.
Remotely Operated Vehicles

BSS can provide Inspection, Observation and Light Work Class ROV systems. Our experience in ROV operations is extensive ranging from Pipeline & Platform Inspections to Seabed Surveys, Wreck Surveys, Object Recovery, Drill Support and Diver Observation.


Underwater Cleaning Equipment

BSS can provide all manner of underwater cleaning equipment including, Hydraulic Brush systems, Underwater High Pressure Water Jetting Equipment (HPWJ), Underwater Grit Blasting Systems (GB) and Electro-Hydraulic Hull Cleaning Equipment to name but a few.
Underwater Repair & Maintenance Equipment

BSS offers a comprehensive array of underwater repair and maintenance equipment. This equipment includes Underwater Cutting Equipment, Underwater Welding systems and Underwater Cold Cutting Equipment.
Underwater Salvage and Rigging Equipment

Generally on salvage projects or complex installations or repairs, BSS provides a full rigging package in support of our standard diving equipment supply. These rigging packages can be comprehensive and may include the following items of equipment: Underwater Lift Bags, Slinging and Strops, Shackles, Chain Blocks, Tirfors, Come-alongs, Turnbuckles, Chain etc..
Underwater Tooling

BSS can offer various underwater tools packages based on the envisaged scope of work. These tools may include Hydraulic/Pneumatic Impact Wrenches, High Pressure Bolt Tesioning Equipment and a variety of Mechanical Hand-Held Tooling.
U/W Inspection Equipment
Underwater Video Systems

Require input from Client here. This text will be replaced by Borneo subsea Services News and Events or any other specific information that requires updating. This information will be updated monthly at no cost to the Client.

UW Weld Inspection Equipment (NDT)

BSS can provide both shallow and deep water Magnetic Particle Inspection (MPI) equipment as well as Eddy Current and Alternating Current Field Measurement (ACFM) systems. All weld inspection Non Destructive Testing (NDT) equipment is operated by trained inspection personnel and qualified inspection divers.

Photographic Equipment

RBSS provides both 35mm film cameras and high definition digital cameras for underwater use. The cameras used are selected based on our Client's specific preference.

Non-Destructive Testing (NDT) Equipment

BSS provides an array of additional NDT equipment on all of our major UW inspection projects. These items include but are not limited to the following: Ultrasonc Wall Thickness Gauges (UT), Flooded Member Detection Probes (FMD and Marine Growth Thickness Probes.
Cathodic Protection Potential Equipment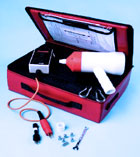 On all BSS Inspection Projects we provide Cathodic Protection Potential measuring equipment. Generally This CP equipment is supplied in the form of diver hand-held contact probes but may also be supplied as a tethered unit with surface display, depending on our Clients requirements.


NDT Ancilliary support Equipment

In support of our u/w inspection operations we supply a variety of equipment used in support of inspection tasks. These items generally comprise of Peanut Grinders and Burrs, Weld Profile Guages, Photographic Close-Up Kits, Magnetic Idents etc.